Onogi
Refined Japanese cuisine without the pretension of kaiseki, and convivial exchanges without the griminess of an izakaya. Step into Onogi for an authentic culinary experience.
TOKYO
Playful Perfection in Tokyo's Best Kept Secret
There's a place in Tokyo that makes my heart sing. Each time I go, I feel grateful to be alive. That happy place is Onogi – a magic word that symbolizes art, warmth, laughter and exceptional Japanese cuisine.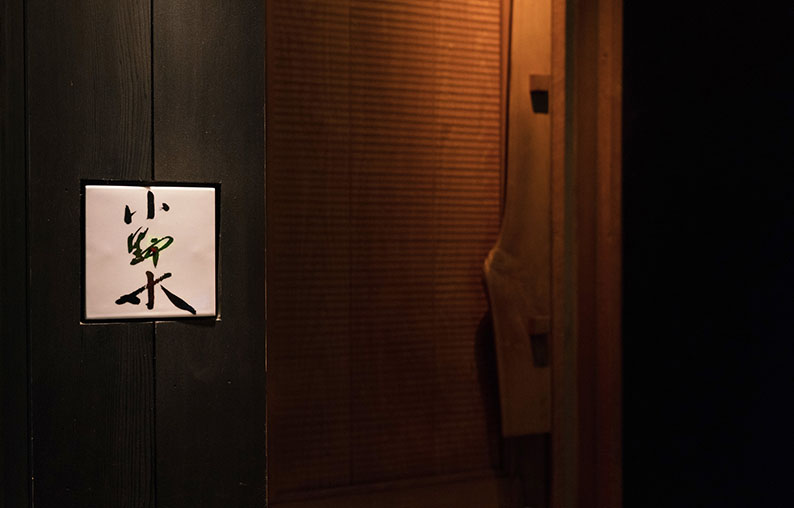 Tucked away in a secret corner of the posh Hiroo area, it's easy to miss Onogi. A minuscule sign with three characters (O-NO-GI: "tree in a small field") written in quick strokes, much like a family name plate of a home, is the only indication that I'm at the right place.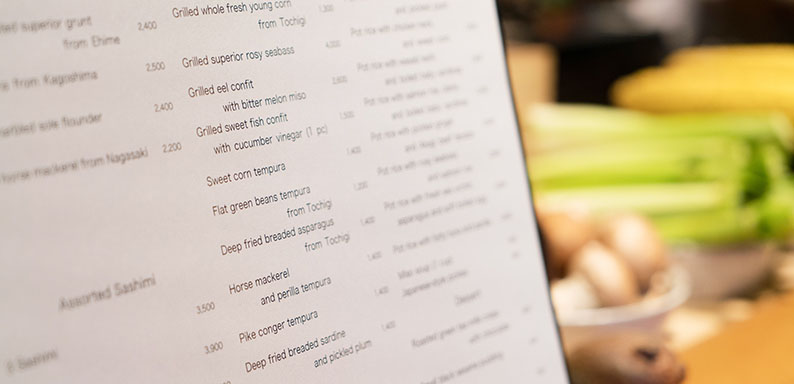 At the top of the narrow wooden staircase, that's exactly what I find: a tree, probably from some small field, hanging from the ceiling. It's actually the root of a tree, made into a sort of organic chandelier. The roots trickle into different parts of the restaurant, like tentacles extending into space. The entire place glows with wood; its colour, fragrance and warmth make me heave a small sigh of relief.
I join my friend, seated at the long wooden counter. Onogi is his second home – he comes here several times a month to "feed his soul," as he puts it. I feel like my soul has been fed by just stepping into this space. He introduces me to Onogi-san, the head chef.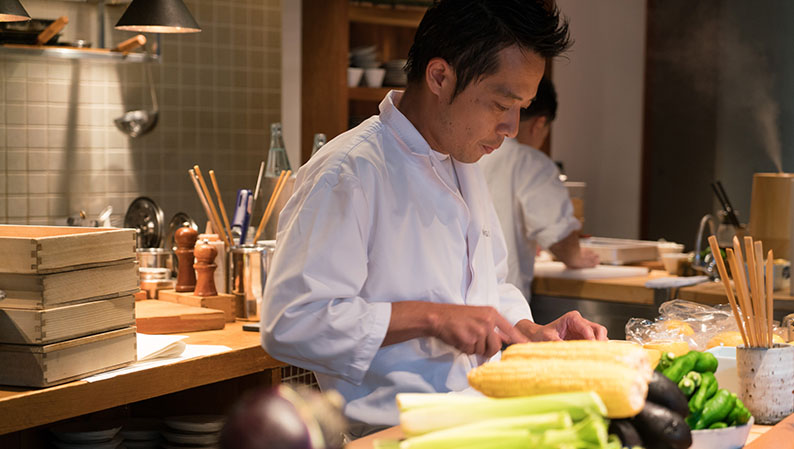 Unexpectedly, I blush. Shigeki Onogi is one of the most handsome Japanese men I have ever met. But I soon learn that his external beauty comes from within. He is most eager to please and full of humour. Offering numerous occasions for laughter and trying hard not to chuckle at his own jokes, he is charm itself in a chef's coat.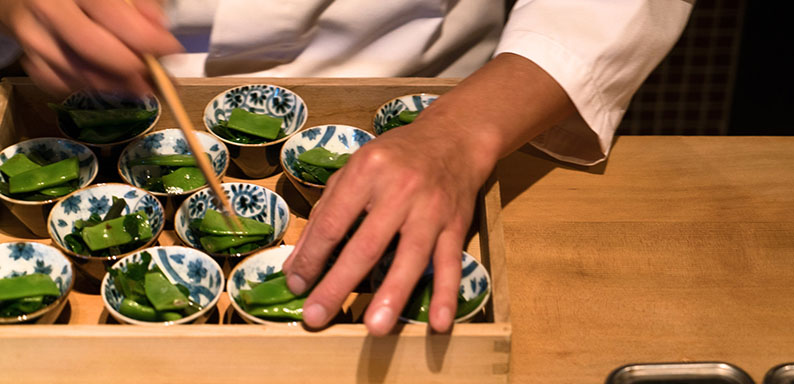 I ask him about the tree chandelier. "Before we opened Onogi, my team and I went to Fukushima over several occasions to dig up this tree because we wanted it to be part of our restaurant." I can't get over the symbolism of this objet d'art, or the physical effort behind getting it here. Or the blissful, warm atmosphere it offers.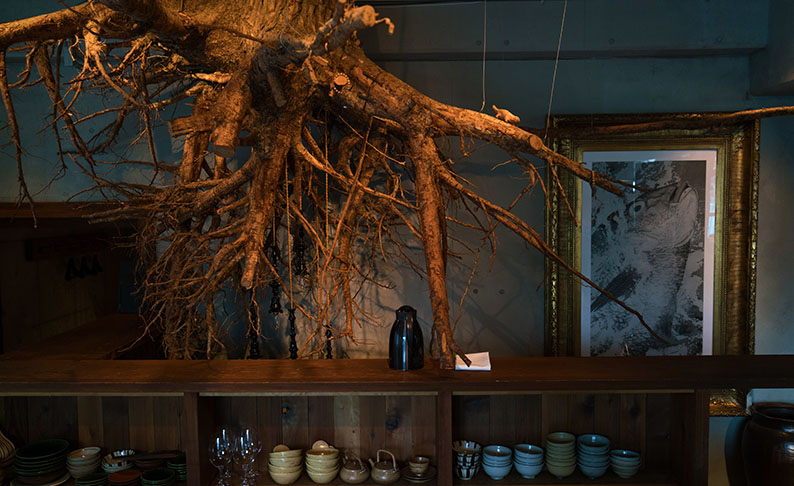 The drink list offers an incredible choice of sake, including brands I've never heard of. "Our selection is based on what our customers ask us to carry," the sommelier tells me. The menu is extensive and proposes creations like "grilled eel confit with bitter melon miso" and "steamed abalone and sea urchin with liver sauce." I leave the ordering of both drink and food to my friend, who knows this week's specials by heart.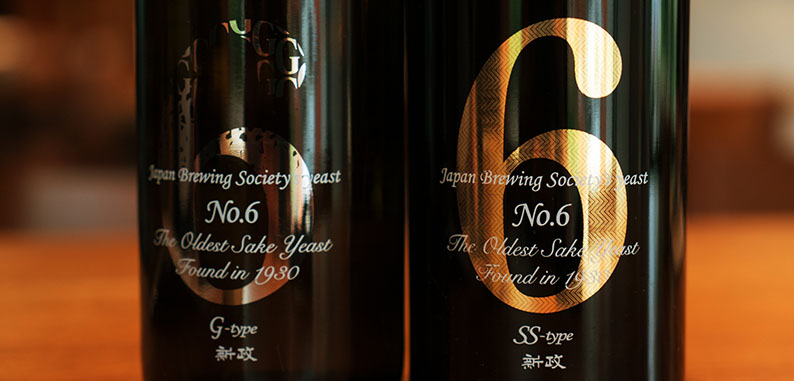 Sipping crisp, fruity sake in Sugahara glasses, we sit mesmerized by the activities unfolding before us in the open kitchen. Beyond the neat stacks of colourful little dishes and artistic piles of fresh vegetables, we watch a man with a razor-sharp knife devotedly slicing one piece of sashimi after another. Next to him, a woman consecrates her energy to grilling and frying meats and vegetables. Onogi-san arranges the food with a pair of very pointy chopsticks and transforms it into culinary art. The three of them form a triangle and follow an invisible line of flow within the limited space in the kitchen. They don't need words to communicate. Precision is the name of the game. All three are focused on the present moment and the task at hand. Their eyes could burn a hole into whatever dish they're preparing. But luckily for us, they don't.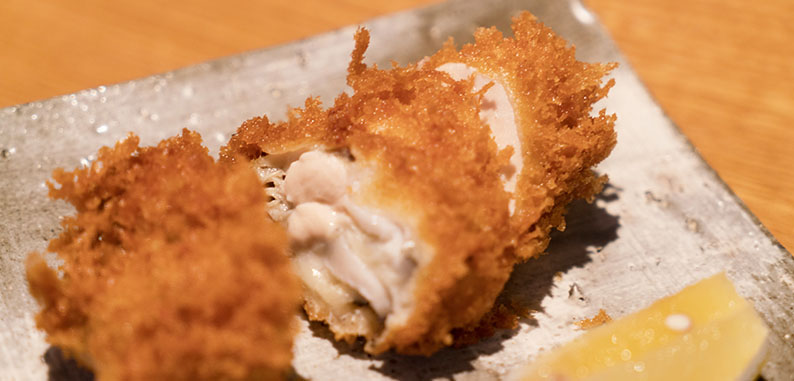 The rock oysters are the first to arrive. Mine is raw, topped with oyster gelée. My friend's is breaded and deep-fried, as is often preferred in Japan. Both are gigantic. And fresh. So fresh that we could be eating these oysters on the boat that harvested them. Next up is corn soup, its velvety texture punctuated by bits of roasted corn and crabmeat, its sweetness interspersed with a delightfully sour gelée.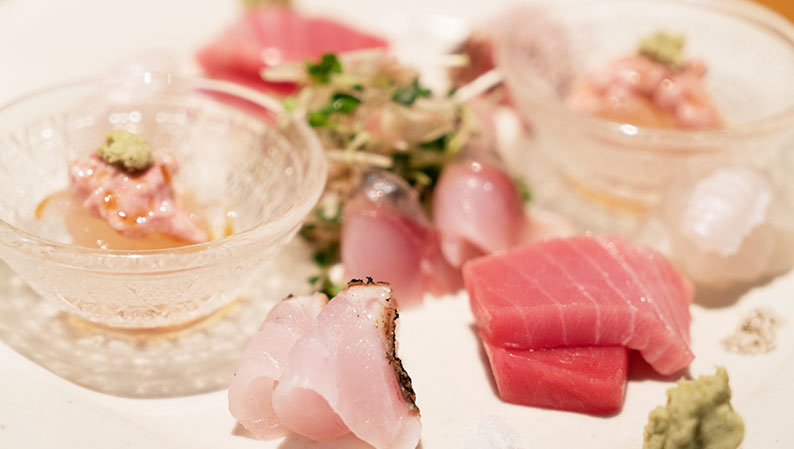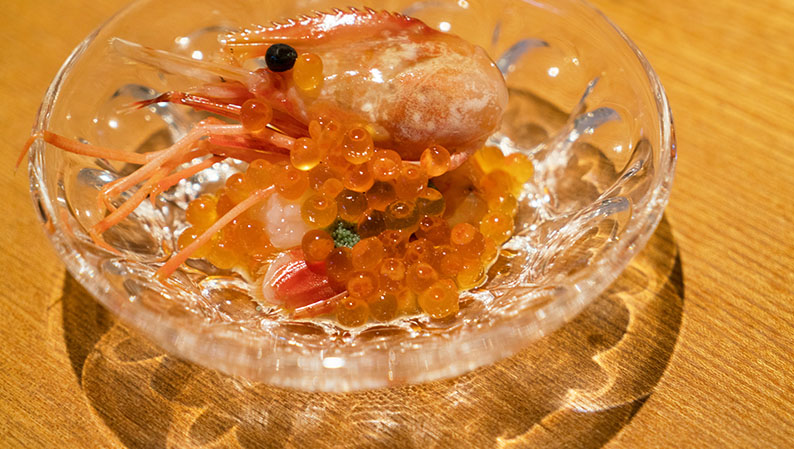 An extravagant assortment of sashimi follows: five types of fish, each with a different condiment or spice. I won't bore you with cryptic fish names. But the filefish deserves a special mention, also known as leatherfish or leatherjacket due to its thick skin. We carefully dip it in ponzu sauce, which is creamy with liver. I've dipped filefish in its own liver a few times in my life, but nothing comes close to the quality at Onogi. This man truly loves his fish. "You know, I feel sorry for those fish that are so damn good but nobody knows about. They really deserve to be in the limelight."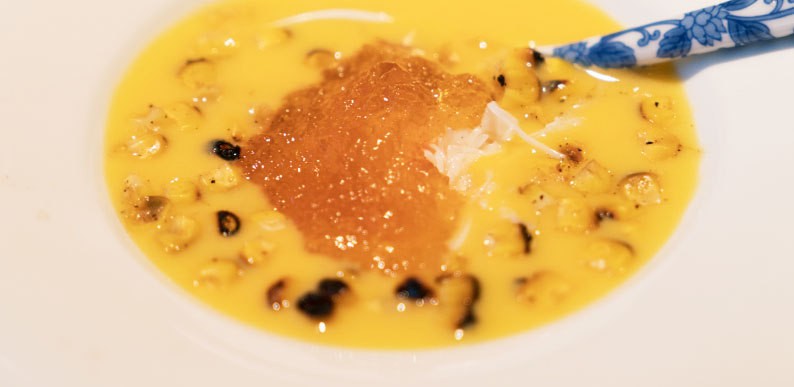 "This corn is from Hatakeyama-san's farm in Nasu (Tochigi Prefecture)," Onogi-san says as he winks and sets down two plates of grilled baby corn from. "You can even eat the corn silk and the tender skin on the inside." The chef has a strict policy for vegetables: they must be grown by people whose faces he knows. "For me, the ingredients are everything. If I don't know who grew the vegetables, I can't get excited about them." And some of the growers are just as impassioned and in pursuit of perfection as he is. Tonight, I learn that baby corn is normally a byproduct of regular-sized corn; they're the stunted ones that grow at the bottom of the stalk. But Hatakeyama-san grows corn to harvest the baby corn. For him, regular-sized corn is a byproduct of baby corn.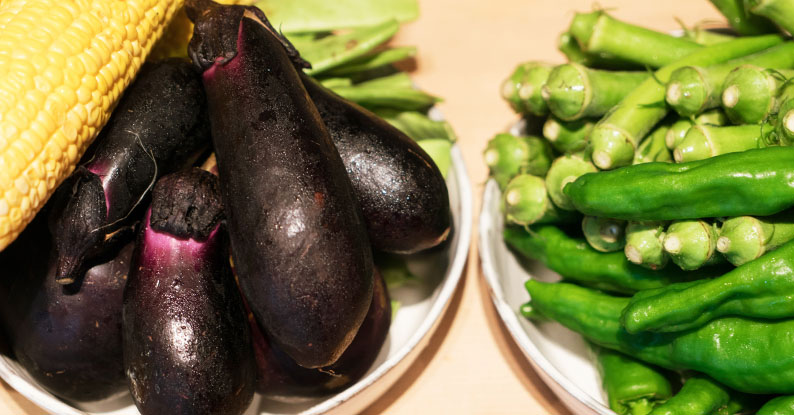 Animated, Onogi-san continues to share fascinating stories of vegetables and fish and meat. He's also a good listener and conversationalist in general. I love the distance, or lack thereof, whenever I dine at a counter. Counters are hubs of communication in Japan. Whether at the local sushi restaurant or at a stand-up soba bar, you can get to know the area from the chef or from the neighbourhood regulars while you watch your meal being prepared. Onogi-san's affectionate personality permeates his words and body language. Greeting guests by their names, he asks, "How was that fishing trip?" "Did you like that restaurant I recommended?" You don't feel like a first-timer here for long.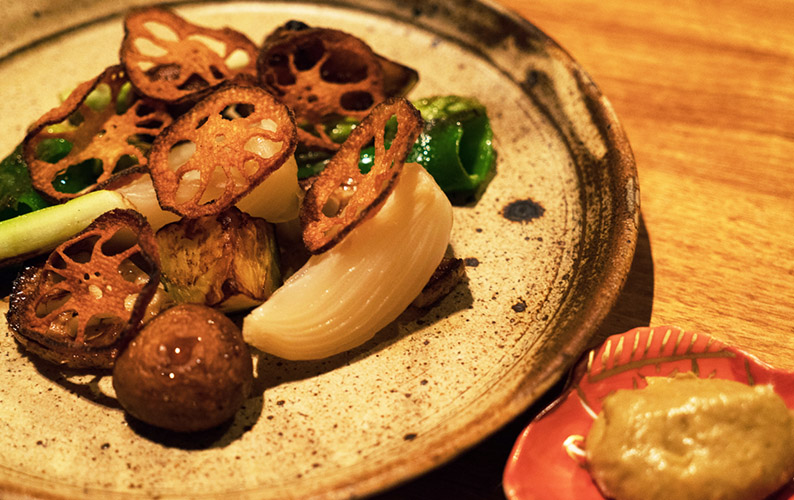 Just when I think I can't get enough of Onogi-san's charm and culinary passion, I discover that he is also an alchemist. His cabbage miso, served with an assortment of grilled summer vegetables, takes me to a new dimension. I douse every bite of eggplant, Manganji pepper, asparagus, onion, mushroom and crispy lotus root in the magic miso dip. This is a veritable vegetable lovers' paradise. The cabbage miso is so tasty, I have to stop myself from licking the little red fish-shaped dish it comes in. I could eat bowlfuls of this stuff.
Next act: grilled Akagi wagyu beef.  The Japanese tend to prefer their beef fatty, like world-renowned Kobe beef, interlaced with fat.  But Akagi wagyu is lean and clean. Simply grilled and accompanied by mizuna leaves, I first try the bright red slices of Akagi with salt, then with another of Onogi-san's magic misos. This one features one of my favourite spices: sansho. Translated as "Japanese pepper," sansho is a curious combination of citrusy and peppery flavours, followed by a strange tongue-numbing effect.
The culinary extravaganza comes to a close, or shimé as the Japanese call it. Whether it be rice or noodles, we save the carbohydrates until the end of the meal, once we've had enough sake. This custom of not eating anything filling while drinking alcohol never made sense to me, until my 95-year-old (beer-drinking) grandma explained: "Beer, sake, rice, noodles…they're all from the same food group." Now that was an a-ha moment!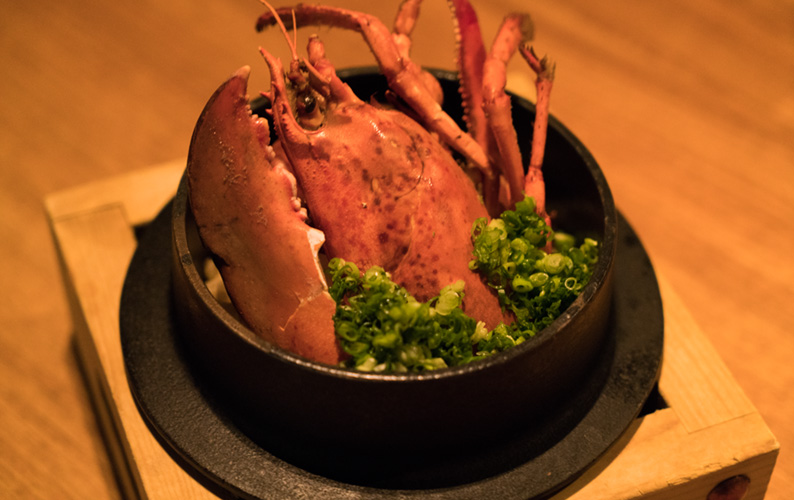 Tonight's shimé is Onogi's signature lobster rice. The chef first presents us with a small cast iron pot fitted into a wooden frame, with the head and claws of a lobster covering the rice underneath. He then takes back the pot and begins shelling the lobster. Once all the meat has been mixed into the flavoured rice, he torches the surface before serving us the lobster rice in bowls. In addition to the presentation and flavour, you also get to enjoy an unexpected aspect of this dish: its name. "Ebi-bi," which is kind of like saying "Lob-lobster."
As we finish off the meal with cashew and coffee ice cream with a Japanese wafer, I ask Onogi-san what his modus operandi is. "Creative combinations," he says as his eyes light up. "I love to think of new combinations. I make non-traditional Japanese cuisine using traditional techniques. I like to be playful and delight people."
Delighted we are, in our tummies and in our hearts.
Written by Maho HARADA, Photo by Yasu KIKUMA
September 30, 2017
Onogi information
Address
2F  5-8-11 HIROO, SHIBUYA-KU TOKYO 150-0012 JAPAN
+81 3-6447-7657
Mon-Fri 6pm-1am
Sat 6pm-0am
Sun,National holiday Close