A Culture of Water and Prayer
SHIGA
LAKE BIWA
Many around the world and across religions, believe that water has spiritual powers. Japan is no exception, as many of its natural springs, wells, and rivers are said to host deities. The areas around Japan's largest freshwater lake are dotted with Shinto shrines and temples established in ancient times. The crystal-clear, undisturbed surface of the lake was also believed to be a window into Paradise. In Buddhism, the dragon is water personified, and the creature is Lake Biwa's most distinguished resident. Not only has the lake always sustained the people living around it, it has also acted as a hub for transportation, and many of its shrines and temples house key cultural assets.
Here's a list of our favorite shrines and temples, going from North to South, East, to West, that will give you a feel for the prayers offered to Lake Biwa (also known as Biwako) by its grateful human keepers.
Lake Biwa, Shiga Prefecture Tourism
http://en.biwako-visitors.jp/japan-heritage/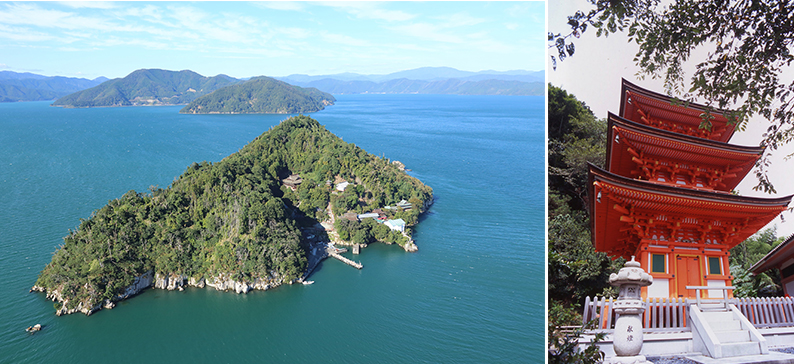 NORTH: Chikubu Island
This small coniferous island, also known as Chikubushima, sits in the northern part of Lake Biwa. It welcomes visitors traveling by boat from Imazu Bay to the west, and Nagahama Port to the east. Hogon-ji Temple was established in the 8th Century. It's home Benzaiten, goddess of music, arts, and learning. The elaborate kamon gate installed in the 16th Century by Toyotomi Hideyoshi, Japan's second "great unifier," is a must-see. Next, follow the path to Tsukubusuma Shrine, where you'll find the most breathtaking lookout on the island. At Ryujin Uganju (which translates to "place to worship the dragon") you can inscribe your wish on a ceramic kawarake and throw it through the torii arch into the sea below.
Biwako Kisen (Lake Biwa Cruises):
5-1-1 Hamaotsu, Otsu City, Shiga Prefecture, Japan 520-0047
Tel: 0570-052-105 (from abroad: 077-524-5000)
http://www.biwakokisen.co.jp/en/index.html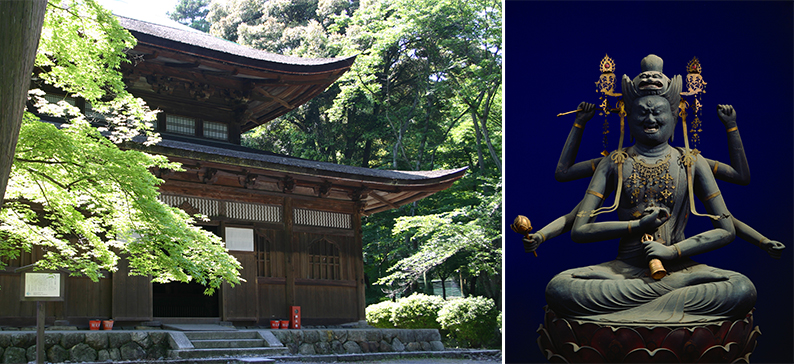 SOUTH: Onjo-ji Temple (AKA Mii-dera)
Famous for its fall colors, the temple compound features many cultural assets such as period architecture and fine art pieces including paintings and statues of Buddha, which can be viewed in the designated cultural property storehouse. Inside, you'll also find official national treasures such as the sliding door panel paintings by prominent artists of the time. The Main Hall enshrines the image of Buddhist saint Miroku Bosatsu, but this statue is hidden from view. Near the Main Hall is a small building called the Akaiya. If you peek through the lattice, you'll see a small spring. It is said that this miraculous spring is home to nine dragons, who, for ten days a year, offer water to the Miroku Bosatsu.
246 Onjoji-cho, Otsu-shi, Shiga Prefecture, Japan 520-0036
Tel: 077-522-2238
http://www.shiga-miidera.or.jp/translation/eng.html
https://www.jnto.go.jp/eng/spot/shritemp/miidera.html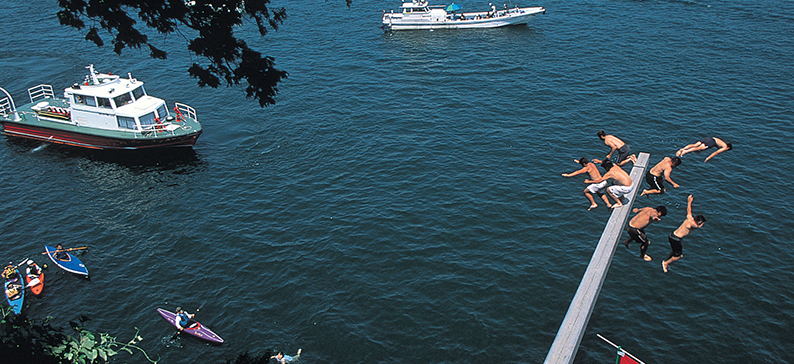 EAST: Isaki-ji Temple
In ancient times, various religions including Shintoism and Buddhism came together in the mountains of Japan, resulting in the folk faith "Shugendo." The founder of the sect is said to have built Isaki-ji Temple in the spot shown to him by a wild boar. The building that stands on the side of a cliff offers an incredible view, but right below it is a long, thin plank extending over the water. Every year, on August 1st, novice monks walk its length and leap several meters down into Lake Biwa as part of their ascetic training.
1391 Shirao-cho, Omi-Hachiman, Shiga Prefecture, Japan 523-0803
Tel: 0748-32-7828
http://www.isakiji.jp/ (Japanese only)
http://en.biwako-visitors.jp/spot/detail/324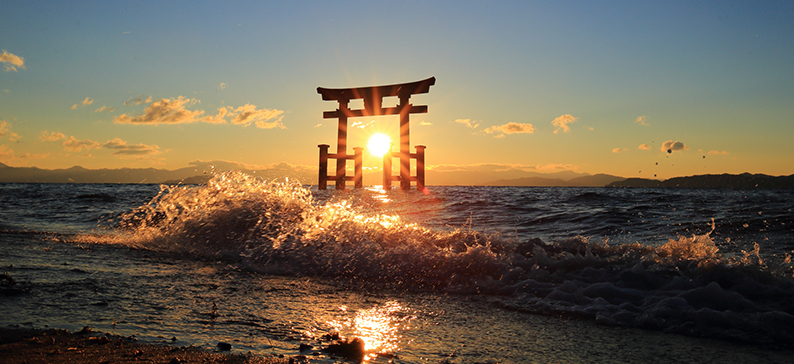 WEST: Shirahige Shrine
With its 1900-year history, Shirahige (which translates to "white-beard") Shrine is the oldest in the prefecture. According to local legend, the god of the Hira Mountains has lived at the shrine for 60,000 years. From here, you can see Lake Biwa's large red torii arch, which was built in 1937. But it is said that there's been a torii in this very spot since time immemorial. Beyond it, you'll catch a glimpse of Okishima, Biwako's largest island, home to a thriving fishing industry.
215 Ukawa, Takashima-shi, Shiga Prefecture, Japan 520-1122
Tel: 0740-36-1555
http://shirahigejinja.com/ (Japanese only)
http://en.biwako-visitors.jp/spot/detail/306
August 19, 2017
A Culture of Water and Prayer information