Arcana Izu
I desired an adventure. Working hard here had pushed me to my limits and I was exhausted. Perhaps my screen-fatigue from working with computers all day inspired me to seek out the countryside- somewhere green to refresh my body and soul.
IZU
Leave Your Worries and Hunger at the Door.
On a whim I chose Arcana Izu in Izu Yugashima, Shizuoka- a luxury inn offering private open-air baths as standard. Leaving early Saturday morning, I embarked on a journey from the bullet train to the local trains, before hopping into a taxi to arrive at the foot of the mountain, and my destination.
Stepping out of the taxi, the crisp, clean air and flora welcomed me. I felt instantly refreshed and released from the oppression of the city. Nestled deep in the forest and tastefully designed, the hotel staff greeted me warmly and showed me to my quarters. Entering my room, I was met with the quiet rushing of the Kano river. A comfortable sofa was situated in front of the large window, overlooking the forest. Going onto the deck, I could hear the bubbling of my private hot-spring over the melody of birds. An instant sense of relaxation took over my body.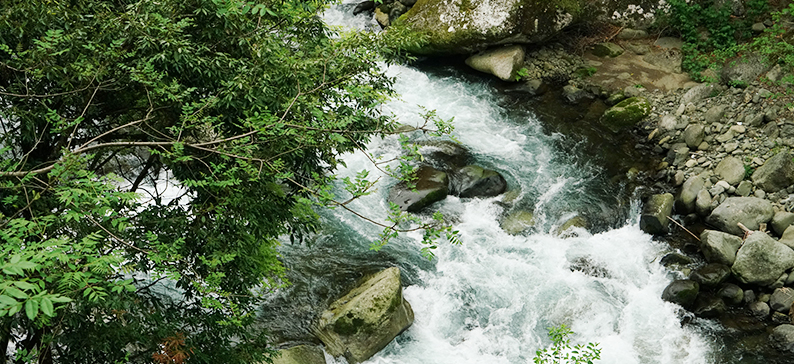 The restaurant holds 32 guests, including a counter-section laid out by the forest. The chefs work tirelessly, enchanting the delicate ingredients until, as if by magic, intricate dishes appear. I came here alone, so casually chatting with them made my evening all the more pleasant. I could feel their love for cooking.
As night approached, the sight of the French vegetable palate consumed me in both mystery and wonder. One of the delights of this Auberge is the fascinating cuisine on offer. With produce direct from local farms, ranches and fish markets, it bursts with vitality and flavour. Nakaizu is blessed to be surrounded by not only the sea, but mountains and rivers, which provide the area with delicious ingredients. Amongst such delicacies include varieties of Wasabi that only grow in clean streams and an abundance of both fresh and salt-water fish; Ayu sweetfish, river trout and sea trout.
My course included Black Abalone from Suruga Bay, moist Hilgendorg Saucord and a flavorful mineral jelly, Suruga Bay-caught Akazaeki Red Shrimp with French white asparagus and a vegetable soup with crisp, sweet tilefish and spring bamboo shoots.
The Stunning Nature of Izu platter arrived next, and took my breath away. A colourful selection of locally-grown vegetables allowing me to experience 60 different scents, tastes and consistencies.
Hirai Ranch Izu Beef was my main dish and as it was being served to me, the chef explained that the cattle are bred at Ohito Hiraite Ranch, brought up on vitamin-rich grass with feed that contains no antibiotics; an organic lifestyle complemented by living in a place with high levels of moisture in the air. The mist commonly covering the area led it to be known as 'the place with the floating bridges'. As a rule, cattle are shipped after 26 months, but here they reside for 28 months, giving the meat its mature taste. Only 120 cows are reared each year, making this a rare breed.
To finish, I was presented with a small vegetable dessert and orange slices from Shimoda acorn farm with Bergamot essence.
Overall, this is a place to indulge in sumptuous local vegetables and produce prepared in a plethora of sauces and essences. Chefs here are not afraid to experiment, concocting new dishes that only seem to exist outside of the city. The tilefish and bamboo-shoot soup has a subtle and yet full-bodied flavor, with the perfect level of sharpness as to not linger on the palate – allowing you to appreciate the experience and expertise of the chef.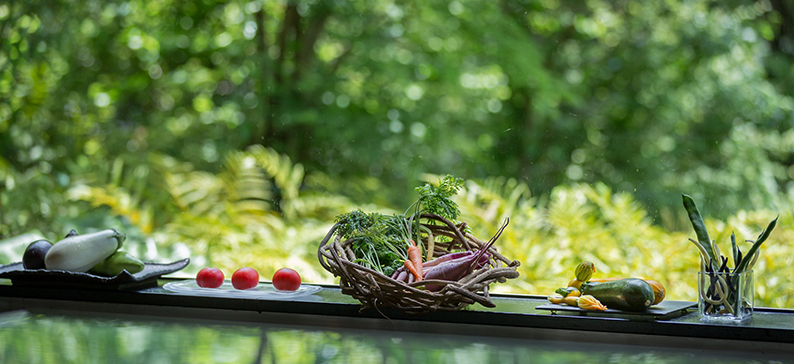 The head of the Auberge explains that 'Our food comes from the farmer and I want our guests to feel the connection to this chain.' He views the restaurant as a place for the connection between guests and farmers to be forged and has a great enthusiasm for continuing to develop this concept. His passion has evidently rubbed off on the staff, the way they speak about the dishes and ingredients incites the same enthusiasm in the captivated patrons, allowing us to enjoy our meals even more.
After dinner, I was welcomed back to my room by a soft, dim orange light and the ceaseless, gentle babbling of the mountain stream.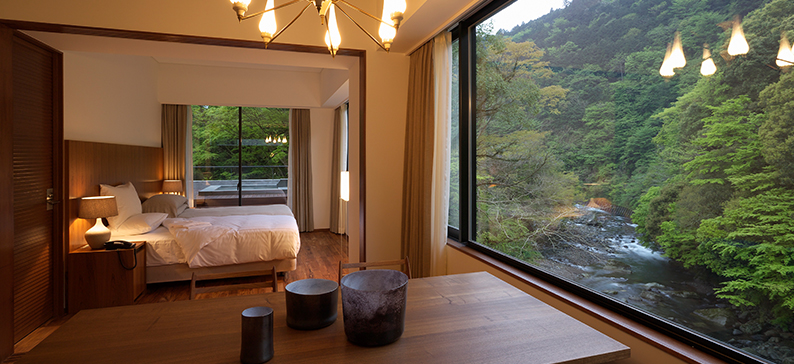 Being here awakened my senses to the balance between want and need; the necessary and unnecessary things in my life. The simpleness of being surrounded by nature, eating lovingly-grown produce and lying on my bed listening to bird-song sharpened my five senses and filled my mind with ideas. Coming here has reset me; my city heart- bound to consumerism- appeared to return to a more natural state. Despite being so tired upon my arrival, I now wanted to dance. The head of the Augerge told me that coming here returns one to nature and I fully believe that in this moment. My room fits in harmony with the nature that envelops us- there is nothing unnecessary here. As much as travelling with family is advised, coming alone is just as effective at adjusting your day-to-day balance.
I dip into my open-air hot spring, gazing up into a blanket of stars. The flowing sounds of the valley go deep into my ears, I am so relaxed I have become almost fetal. Naturally-sourced water washes over and around me, so comfortable I wish to stay here forever. I take regular breaks to sweat out the toxins from my body. Enjoying a hot spring so holistically was a first for me, and an interesting discovery.
Reflecting on recent events and experiences, people I had met, the good and the bad, I fell into a deep sleep. The following morning I was awoken by the sounds of nature. Opting for breakfast in my room, I was yet again amazed by the wonderful meal presented to me.
Two soups; one a consommé soup with the sweetness of cabbage, the other with herb-infused chicken balls. The Onsen Tamago, an egg cooked in the hot spring, was seasoned with a drop of fragrant olive oil- a rich taste showing its freshness. A fresh juice had been made from fruit and vegetables into a smooth blend and the shellfish was so fresh, I was overcome by the scent of the ocean. To finish, a full-bodied jelly. It almost seemed as though eating any of it would be a waste.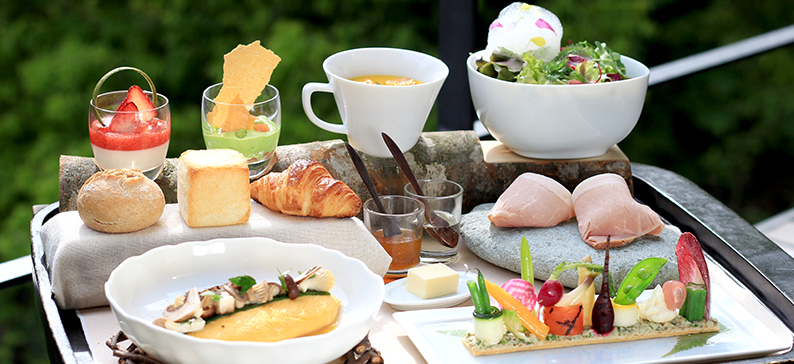 The nature of the morning was different to that of the night; both were refreshing and revitalising, but the sight of young birds singing and bright green leaves dancing in the wind gave me a fresh start. What to do with my day? After such an experience, I wanted to absorb something great. I took a walk to Shuzenji temple, loved by writers. Famous Japanese writers, such as Ogai Mori and Yasunari Kawabata must have escaped here, to this other world, to get away from reality and focus on their art. Following in their foot-steps is easy, I feel inspired, renewed and ready to create.  
by Mari Kobayashi
June 05, 2016
Arcana Izu information
| | |
| --- | --- |
| Number of rooms | 16 |
| Internet | wifi available |
| Credit card | ok |
| Check in/out | in 3:00pm out 1:00pm |
| Language | English available |
| Price range | |
Recommended restaurants
Baird Beer (Beer Brewery) - 1052-1, Oodaira, Izu-shi, Shizuoka-ken - TEL:0558-73-1225
Snack Minnano Ie (Izakaya) - 758-1 Shuzenji, Izu-shi, Shizuoka-ken - TEL:0558-72-1104
Cedar Maountain (Steak & Japanese-style Western food) - 152-1 Takyo Izunokuni-shi Shizuoka-ken - TEL: 0558-76-8848
Yasube (Izakaya) - 868-1 Shuzenji, Izu-shi, Shizuoka-ken - TEL:0558-72-0917
Matsuya (Izakaya & Sake bar) - 1154-2 Shuzenji, Izu-shi, Shizuoka-ken - TEL:0558-72-5307
Bokunenjin (Soba) - 3451-40 Shuzenji, Izu-shi, Shizuoka-ken - TEL:0558-73-0073
Shuzenji-no-Yoshokuya (Japanese-style Western food) - 697-1 Shuzenji, Izu-shi, Shizuoka-ken - TEL:0558-72-8971