Organic Garden Kuruminoki
Let Nature Do Its Job
NAGANO
Where to mend your body and soul
Winter 2015. I was tired and broken, in dire need of a break. Desperate to fill my lungs with clean, fresh air, I hopped a long-distance bus from Tokyo to Komoro, a small city in mountainous Nagano Prefecture, where I had booked an organic farm stay. I was counting on this trip to somehow wash my troubles away.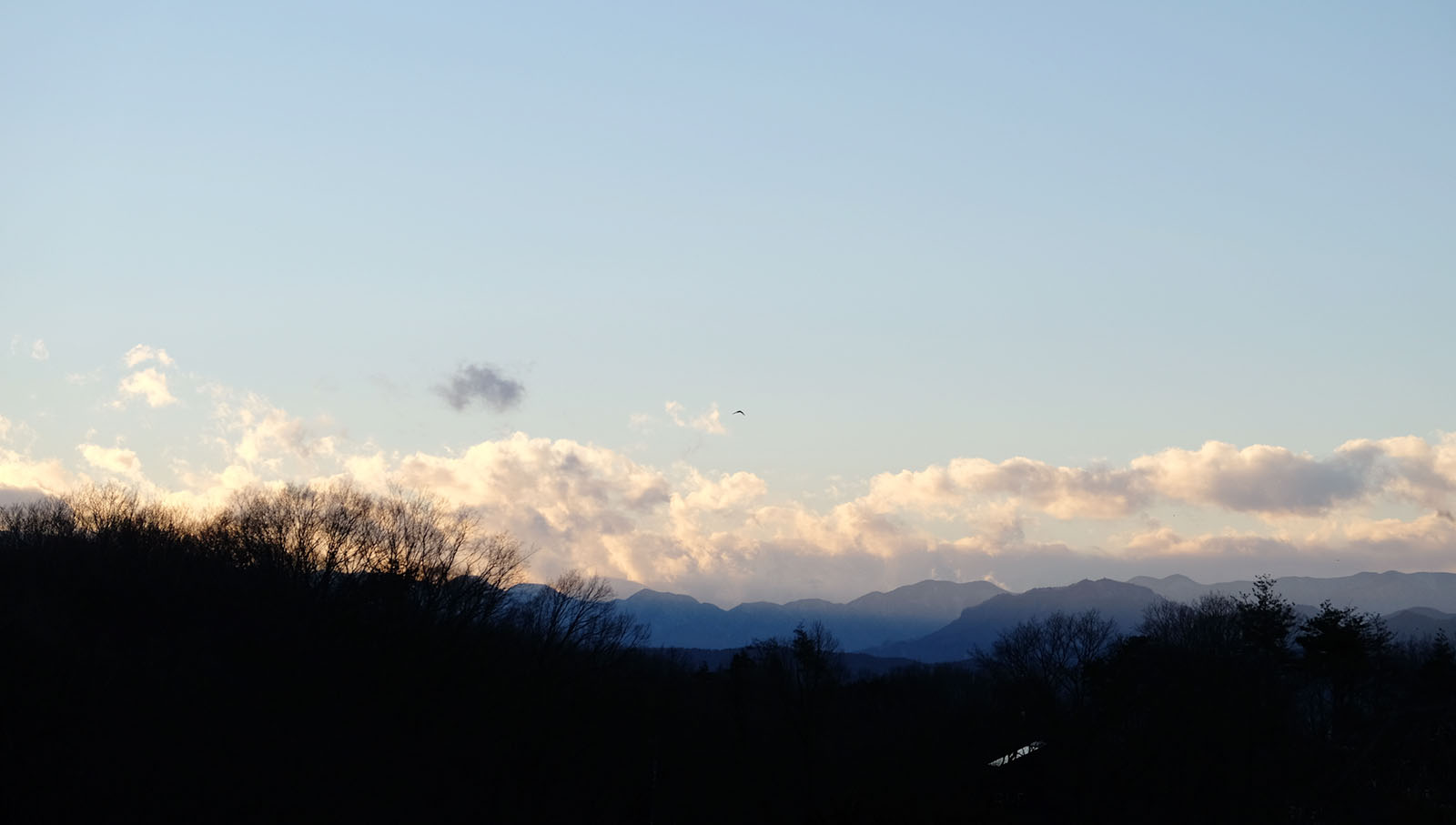 The bus ride was already doing me wonders, as I watched the rice fields give way to mountains lining the horizon. At the bus stop in Komoro, Ishizaki-san, a spirited woman in her 60s, was waiting for me with a glowing smile and her little blue eco-car. We headed out of town on winding dirt roads. I craned my neck to glimpse the clear blue sky and gentle rays of sun poking through trees. I breathed a sigh of relief.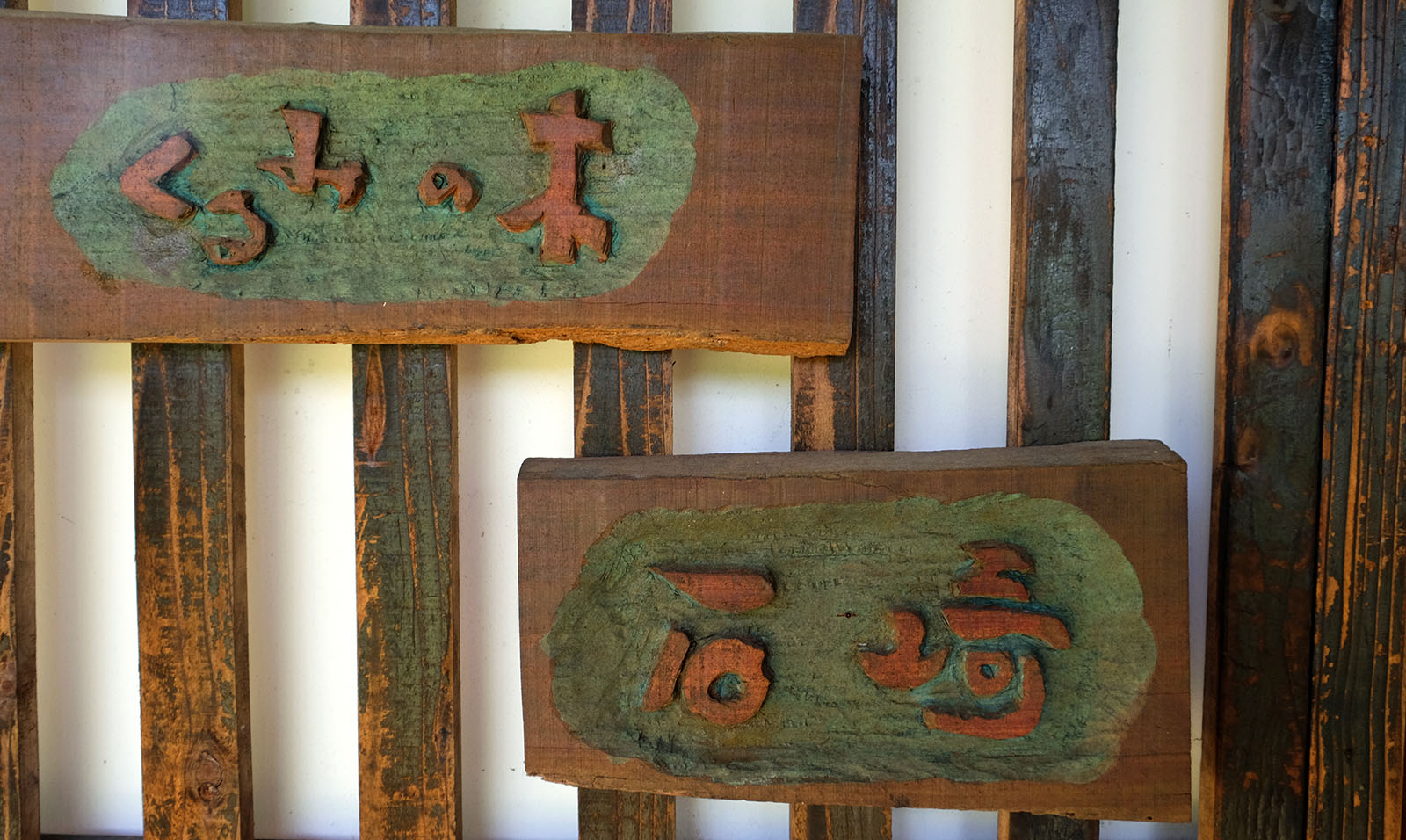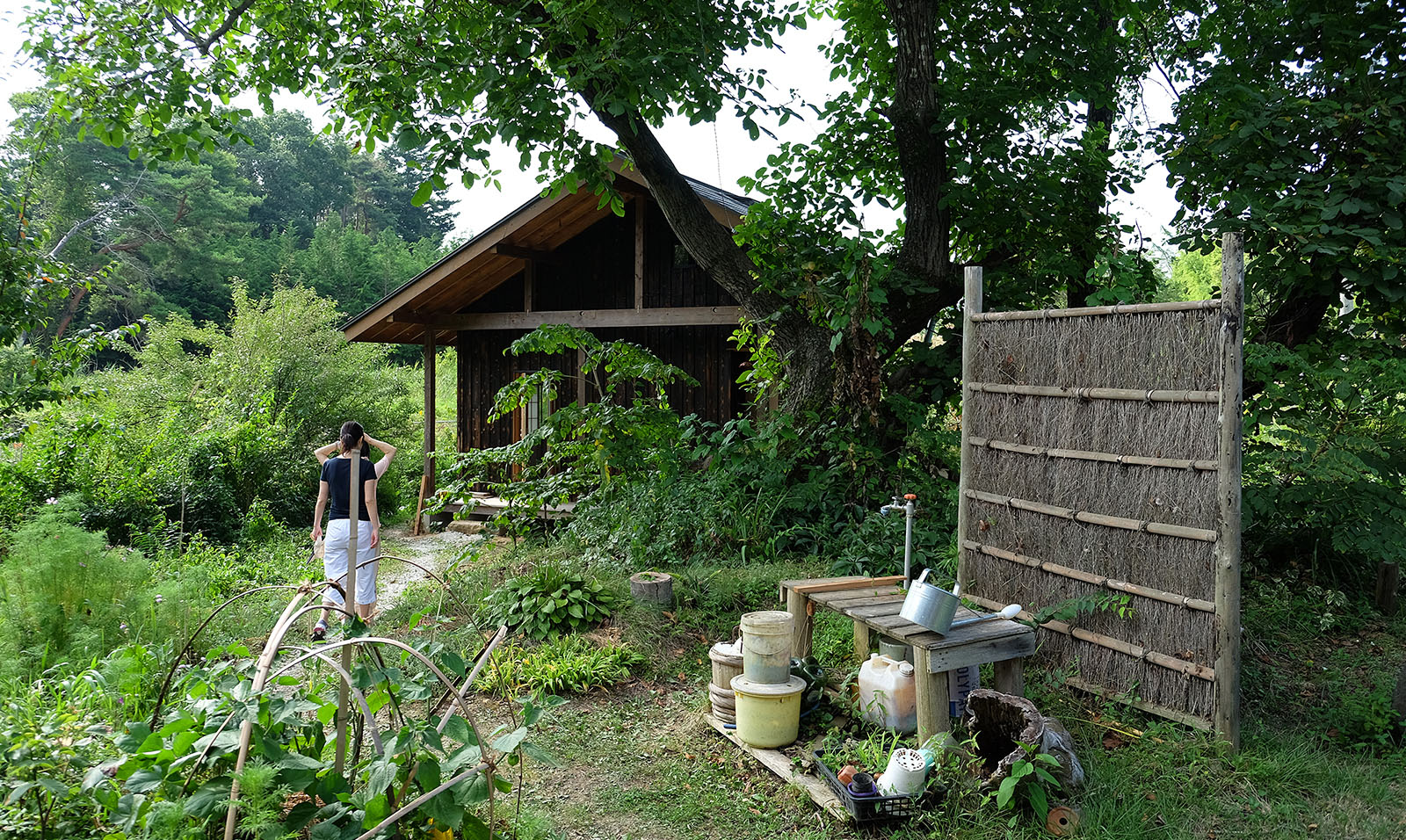 We turned off the main road and arrived at Kuruminoki. A giant walnut tree, the farm's namesake, towered at the center of the farm, like a great-grandfather watching over his family. The main lodge and guest cabin sat on a hill, overlooking the expanse of the garden. Beyond the garden was magnificent, snow-covered Mt. Asama. I breathed in the crisp air, filled with the fragrance of the soil.

Rows of dried persimmons were hanging like beaded curtains at the entrance of the main lodge. Inside, the vestibule had an earthen floor and a high ceiling. In the rest of the house, everything… the walls, the floor, the furniture… was made of wood. Bunches of dried flowers and beans rested in large baskets. An old upright piano sat in a corner of the living room. The wood stove glowed with warmth. The entire place smelled and felt like home. From the moment I walked through the door, I knew Kuruminoki would heal me. I turned to Ishizaki-san and said, "Will you please adopt me?"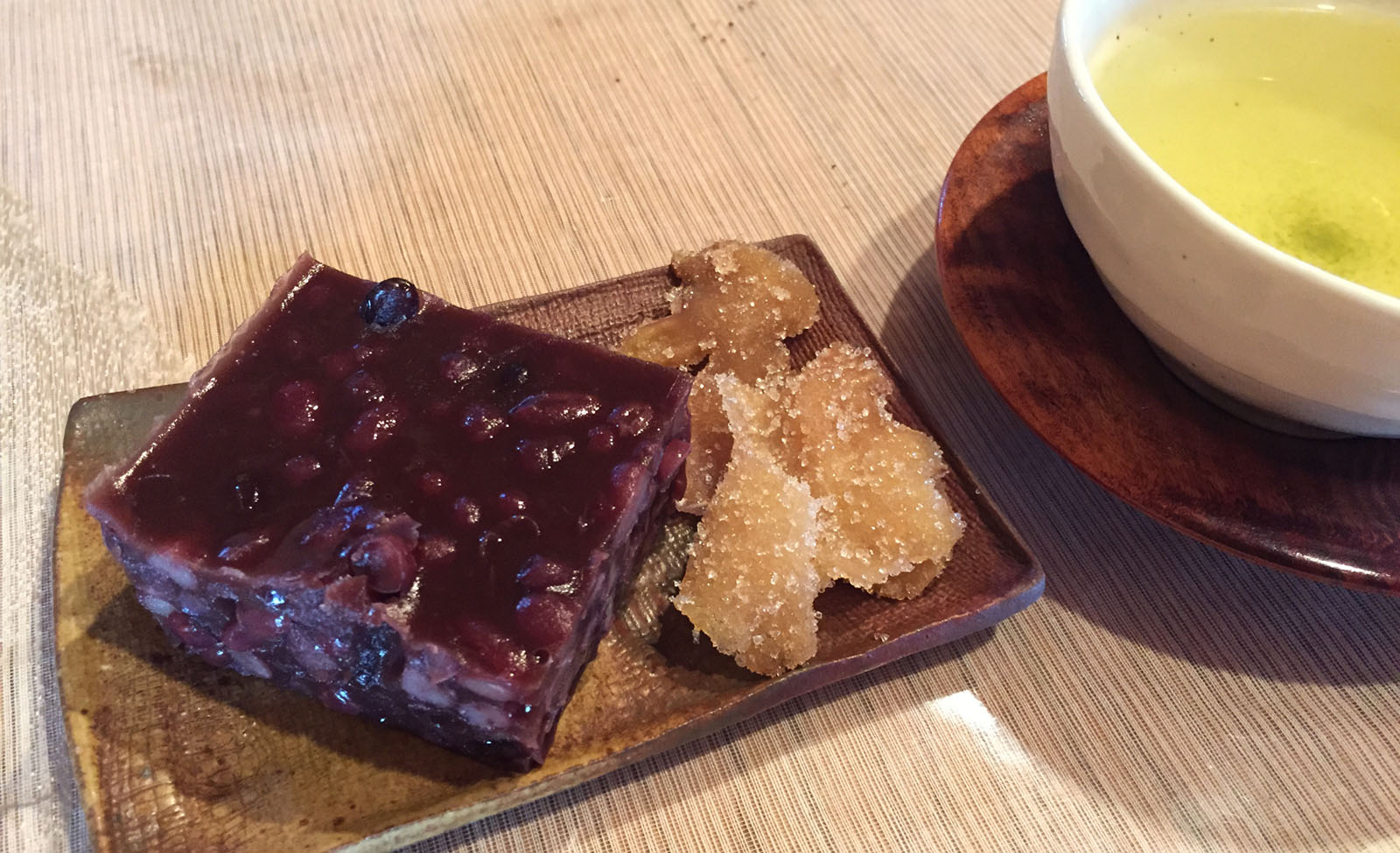 Things only got better from there. Ishizaki-san offered me a steaming cup of hojicha (roasted green tea) and a generous portion of sweet potato yokan (jelly cake) with a side of candied ginger, and followed it up over the course of my stay with a series of hearty meals that tasted of heaven and soothed my soul. Vegetable tempura, hand-made soba, pizza baked in the little wood stove, salads topped with persimmon and edible flowers…Virtually everything was grown here at Kuruminoki. I'm no vegetarian, but I didn't miss meat for a second. Ishizaki-san's cooking is beautifully simple, in a bring-out-the-essence-of-the-ingredients kind of way. It felt like a delicious detox.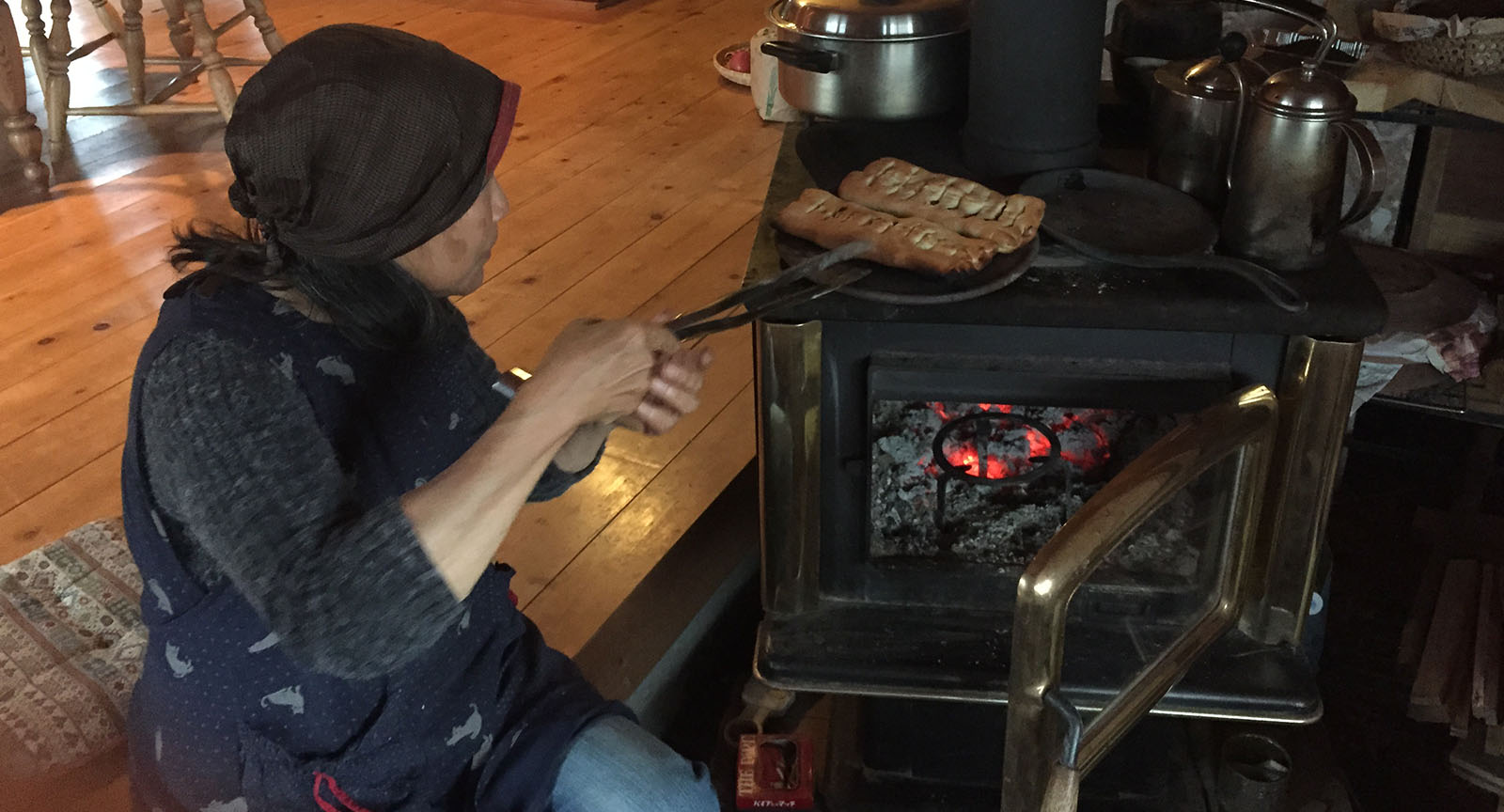 Ishizaki-san had an interesting philosophy on farming: sow the seeds and leave them alone. But here I was, itching to do some serious farm work. I was ready to weed, plant, till, get dirt under my nails. Instead, I only spent a few minutes in the garden each day, just the time it took to harvest whatever we felt like eating for breakfast, lunch or dinner. Once, she asked me to go find some daikon radish for miso soup. Right. Daikon… Daikon… The patch where they were supposed to be was completely overgrown. I felt such joy when I finally found one. A trip to the garden was always like a treasure hunt.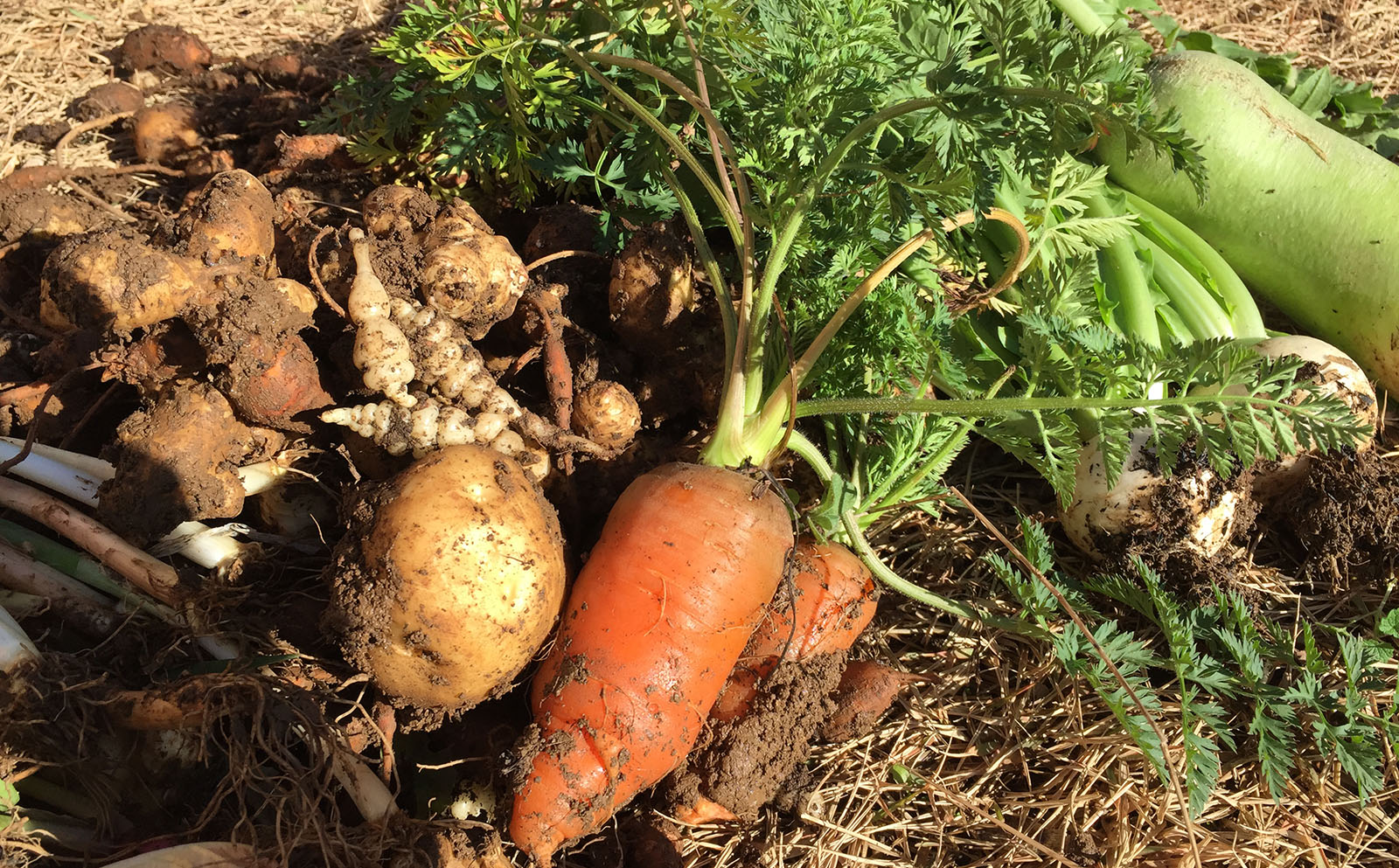 I asked Ishizaki-san if she ever does any weeding. "No, I just let nature do its job." This wasn't to say that Ishizaki-san didn't do anything in the garden or wasn't knowledgeable. She practices companion planting, putting marigolds alongside tomatoes, carrots alongside squash. This technique improves the flavor and yield of the vegetables. It also helps repel pests and improve soil health. She also plants the same crops in the same plot each year, allowing the soil to become more suitable for each crop as the right bacteria and bugs create the right environment for that crop.

The vegetables at Kuruminoki are tiny and crazy-shaped, but unbelievably fragrant and tasty. We dug up Jerusalem artichokes, lily bulbs, chorogi (tubers that look like fat, squiggly worms), picked shiitake mushrooms and all sorts of other delightful winter gems.
The accommodations at Kuruminoki are basic (futons in a small log cabin), but it matches the experience. Whether strolling through the woods, soaking in nearby hot springs, gazing at the fire, or discussing life with Ishizaki-san as she cooked up a storm, Kuruminoki provided just the refuge I needed, helping to mend my body and soul.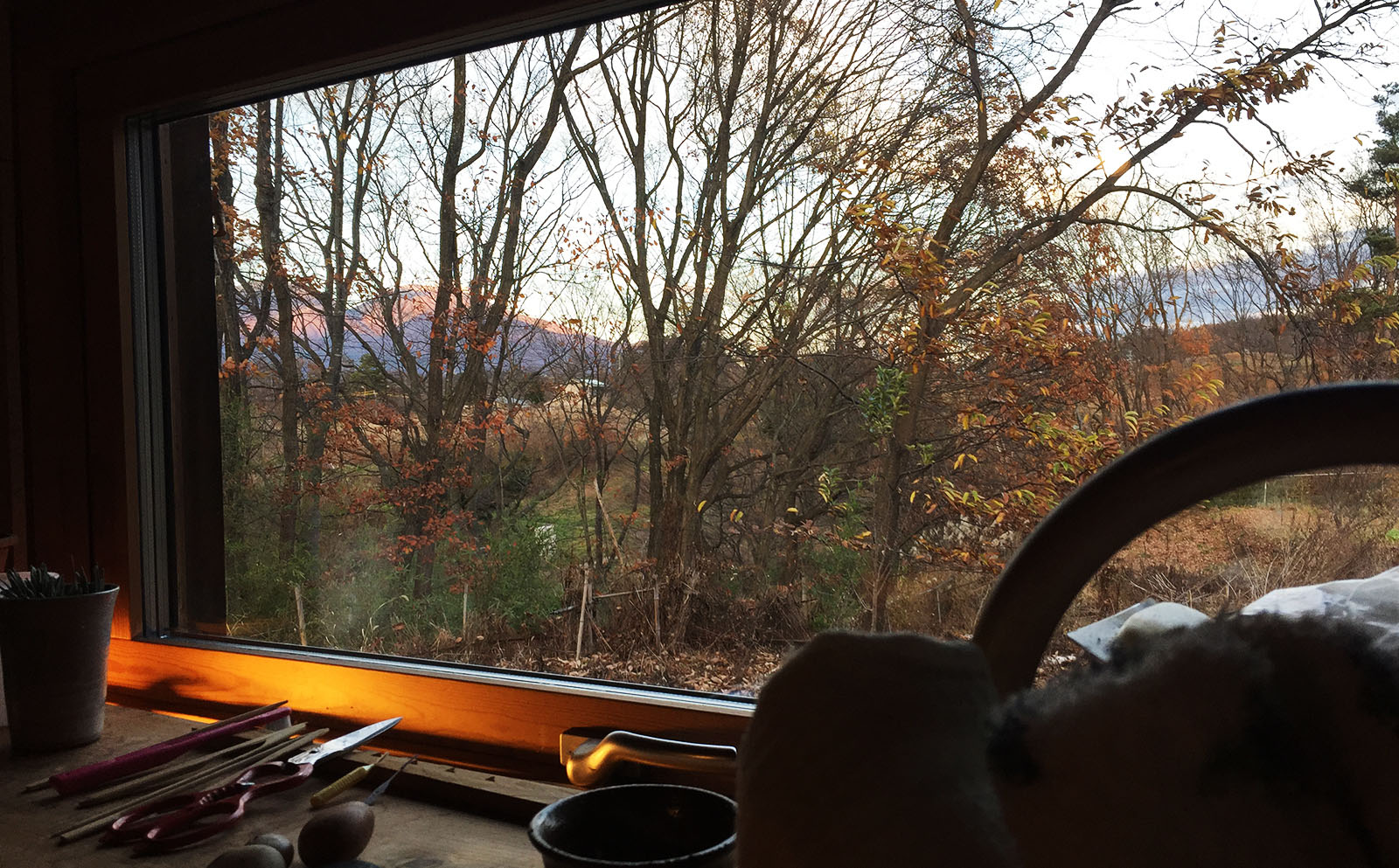 Since last winter, I've visited every season and have become a "regular." Ishizaki-san has in turn, become something of an aunt to me. Each time, she shows me ways to appreciate whatever is in season, and insists that I relax in this cozy environment she has created. Each time, she sends me off with a bag stuffed with veggies covered in dirt. Once I'm back in the city, these little treasures remind me of my happy place in Nagano, and I feel such nostalgia for a simple and self-sufficient life. I'm so grateful Kuruminoki found me.
Written by Maho HARADA
March 20, 2017
Organic Garden Kuruminoki information
Address
2426-17 Okubo, Komoro-shi, Nagano
For inquiries, contact TripOut : info@tripout.jp