Niki Club
Whether going for a walk in the woods, savoring world-class dining, or simply gazing into the fireplace, you'll find a comforting stillness at Niki Club.
NASU
Two Creeks, Three Chairs
Niki Club will be closed for renovations until Autumn 2019
Nestled in the heart of an enchanting woodland in Nasu, you'll find three chairs. The first is for solitude, the second for friendship, and the third for the collective. And no matter which chair you choose, it comes with the most rare and valuable gift: true serenity.
Niki Club offers a comforting stillness. But within that stillness, there are invitations to be playful: a swing suspended between two trees, a hand-cranked coffee grinder in your room, a ping-pong table made from barrels, a laugh shared with the staff… At Niki Club, your body and soul become one again.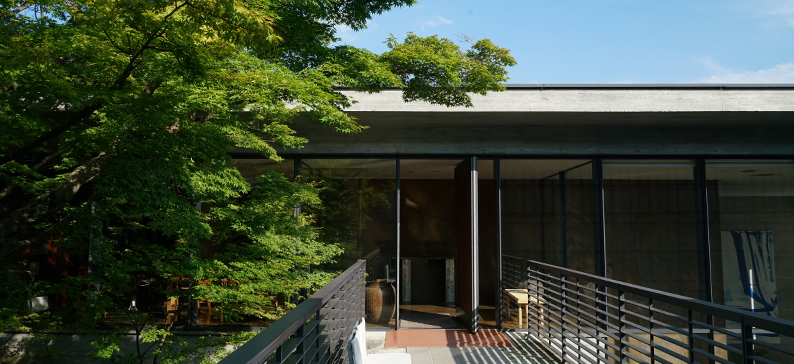 Hitomi Kitayama fell in love with the land the moment she stood at the confluence of two pristine creeks. She decided that this symbolic spot would be the perfect home for Niki Club. And now, 30 years later, this unique resort represents the magic that transpires when nature and people come together. Celebrating a landmark anniversary this year, Niki Club has become a legendary place where architecture, cuisine, art, nature, and hospitality come together.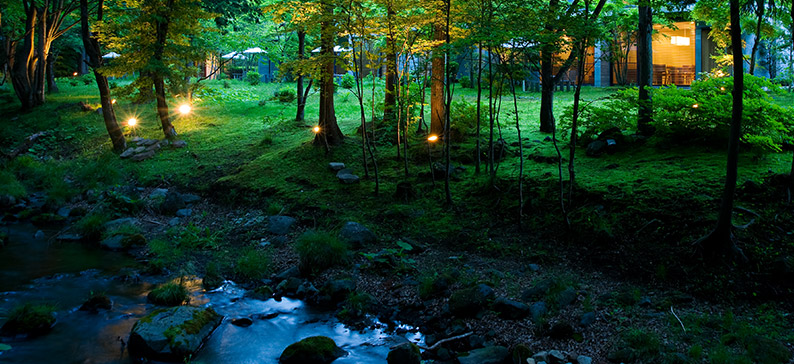 The architecture is exquisite on so many levels, using only natural materials to highlight the Japanese aesthetic of simplicity and harmony. Designed by masters such as Akira Watanabe, Takashi Sugimoto and Sir Terence Conran, each space is flawlessly beautiful, yet intimate and warm.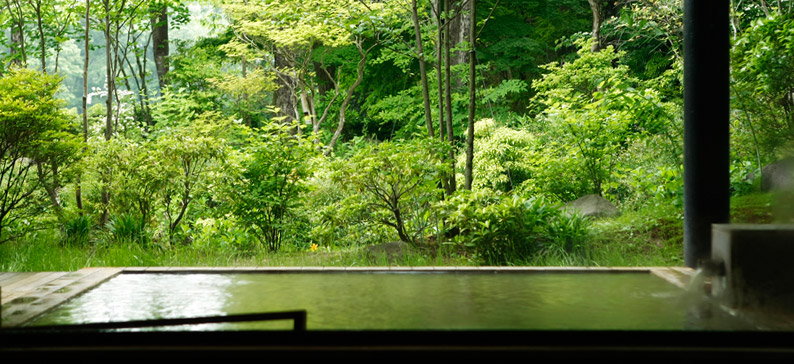 The fireplace and luxurious red sofas in the reception area segue gracefully into the main dining area, which gives you the impression of being in a European museum. The individually designed suites come alive with natural light, and offer unobstructed views of the surrounding nature. My room looks out onto rice paddies hibernating for the winter. I venture into the woods to discover the outdoor bath with a view of the majestic Mt. Nasu.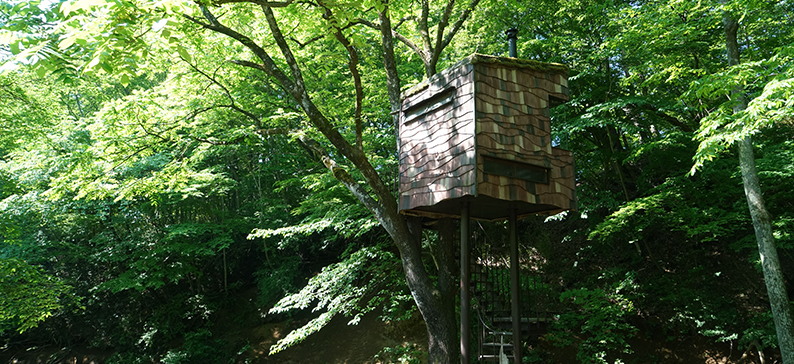 If you thought the bath was good for your soul, Niki Club's chefs are ready to delight you with their sumptuous creations that feature local ingredients and organic veggies grown in the on-site garden. You have the choice between modern Japanese cuisine at La Brise in the main building or a more European menu at the Garden Restaurant in the East Annex. Both offer stunning expressions of what's in season and an extensive selection of wine and sake. But let's not forget the bar, where you'll find a startlingly menu of organic vegetable elixirs and 19th century cognacs.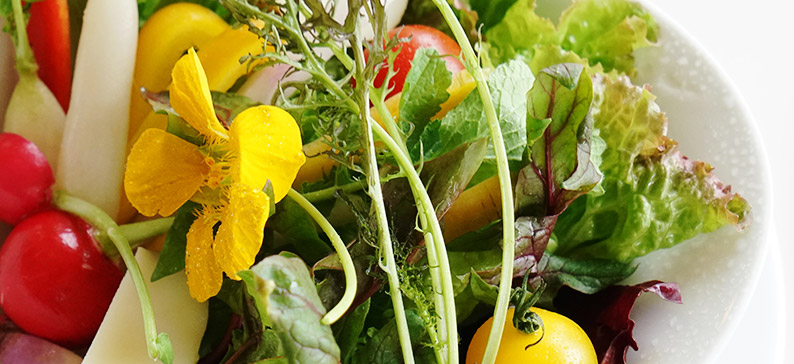 Did I mention Niki Club is also an open art gallery? Works by up-and-coming Japanese contemporary artists like Harumi Nakashima, Shoko Koike and Yuki Nakaigawa are displayed throughout the resort. Isamu Noguchi would be delighted to see his giant rock sculptures installed in just the right natural context. The Kagami Stage, a fusion of granite boulders and mirrored steel reflecting the encompassing trees, is a breathtaking venue for live performances. In summer, Niki Club hosts Schule im Berg (School in the Mountains), an open college that brings together leading academics, artists, designers and musicians under a natural canopy.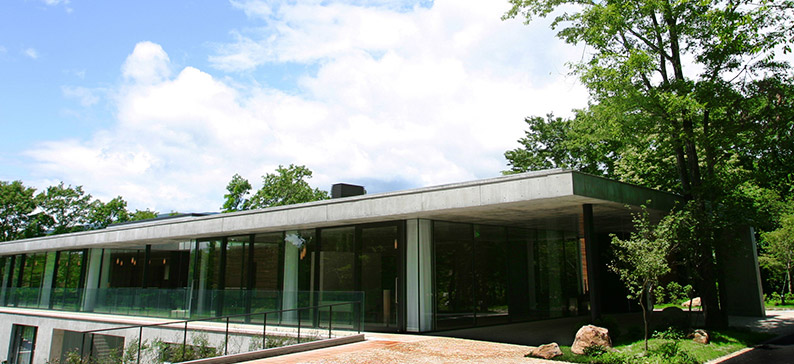 On a midsummer night, you can take part in the time-honored Japanese tradition of quietly watching fireflies. And you can combine it with yet another one, shinrin yoku (forest bathing), which I do for hours during my stay. Gusting winds and sudden snowfall can't stop me from strolling the meandering paths linking guest areas to the pine forest. I can sit on a tree stump by a babbling brook, delight in the feel of the handrails made up of branches tied together, and even climb up to a stylish tree house perched near the main creek. Designed by veteran tree house builder Takashi Kobayashi, this secret base features a view of the cliff where a giant tree root clings to a boulder above the water. I can't help but revel in the many wonders offered at Niki Club, and marvel at the fact that Tokyo is only an hour-and-a-half train ride away.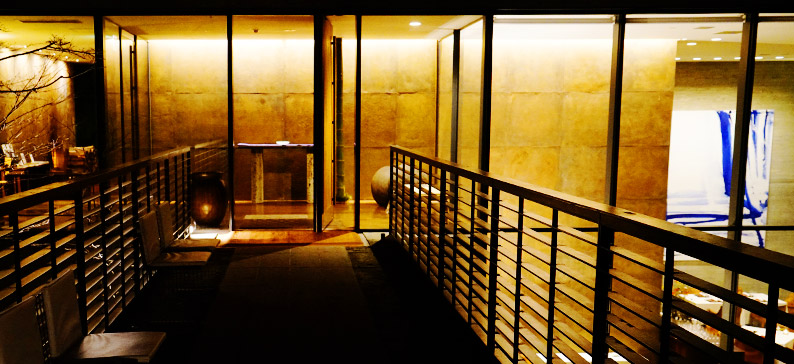 There's a Japanese proverb that says every encounter should be cherished, as we may never cross paths again. "Niki" refers to the hope that we will. Again and again. And the staff here embody this concept, making genuine conversation that leaves an impression. Many of them moved to Nasu from other parts of Japan to work at this legendary place, and they're proud to be part of the Niki family. I'm grasping at straws looking for something to criticize… Would a non-incandescent light on the bathroom mirror count?
Niki Club is much more than just a hotel. It's a vision, a philosophy, bliss for all the senses. My stay makes me understand the true meaning of luxury: being in harmony with nature, and with yourself, in a place where simplicity is art.
by Yuriko Watanabe & Maho Harada, translated by Maho Harada
November 05, 2016
Niki Club information
| | |
| --- | --- |
| Number of rooms | 41 |
| Internet | wifi available |
| Credit card | ok |
| Check in/out | in 3:00pm out 0:00pm |
| Language | English available |
| Price range | |
Additional Information about Niki Club
Vegetarian option available
bar
Recommended restaurants
L'atelier Monsieur (French) - 1721-101, Takabayashi, Nasushiobara-shi, Tochigi-ken - TEL: 0287-73-8550
Cucina Hasegawa (Italian) - 3368-157, Takakuotsu, Nasu-cho, Nasu-gun, Tochigi-ken - TEL: 0287-78-0333
SHOZO (café) - 2730-25, Takakuotsu, Nasu-cho, Nasu-gun, Tochigi-ken - TEL: 0287-78-3593
Borage (Café) - 2731-12, Takakuotsu, Nasu-cho, Nasu-gun, Tochigi-ken - TEL: 0287-78-2776
UNICO (burgers) - 2888-38, Takakuko, Nasu-cho, Nasu-gun, Tochigi-ken - TEL: 0287-64-1508
La Terra Pizza (Pizza) - 1186-34, Takakuhei, Nasu-cho, Nasu-gun, Tochigi-ken - TEL: 0287-69-6470
Baku (Japanese) - 796-17, Takakuotsu, Nasu-cho, Nasu-gun, Tochigi-ken 3 - TEL: 0287-78-7179