Iori Machiya Stay
Founded by three non-locals who wanted to soak themselves "from head to toe" in the Kyoto experience, Iori offers visitors to stay in traditional dwellings that have been converted into comfortable accommodations.
KYOTO
From Head to Toe: Soaking Yourself in Kyoto
I've been living in this city for 10 years. Although I've become quite familiar with the street names, major temples, and seasonal festivals, I can't say I know the place inside out.
Machiya ("townhouses") are traditional dwellings that line the narrow alleys of Kyoto. Trendy cafés and restaurants housed in renovated machiya are some of my favorite hangouts. But I'd never set foot in a real machiya, one used as an actual living space. Since I moved here, I've only lived in regular condos. And since Kyoto lives up to its reputation of being a closed community, my friends and I have never had the opportunity to visit a Kyotoite in their home.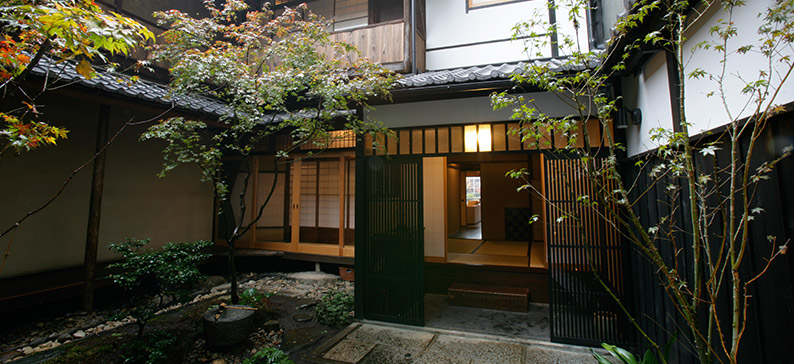 So you can imagine my excitement when I got the chance to spend a night at a house operated by "Iori Machiya Stay," (which I'll call "Iori" for short.) Guests can choose from 11 townhouses, all of which were built between the late 19th century and the early 20th century. I had the impression that machiya were older than that, but I learned that many of them were destroyed during the riots that happened on the night the capital was moved from Kyoto to Tokyo.
"Saki Zaimoku-cho Machiya" and "Oku Zaimoku-cho Machiya" are two machiya that are connected to make up a double house. I'm struck by the black exterior and the wooden fence that lines the property. As both buildings were inhabited by charcoal makers, the walls are lined with burnt cedar siding. Facing the street, the first machiya is not large by any standards. But its designers creatively maximize the natural light that highlights the house's delightful textures. The small size of the inner garden intensifies its charm, making me want to relax on the sofa and gaze at it all day.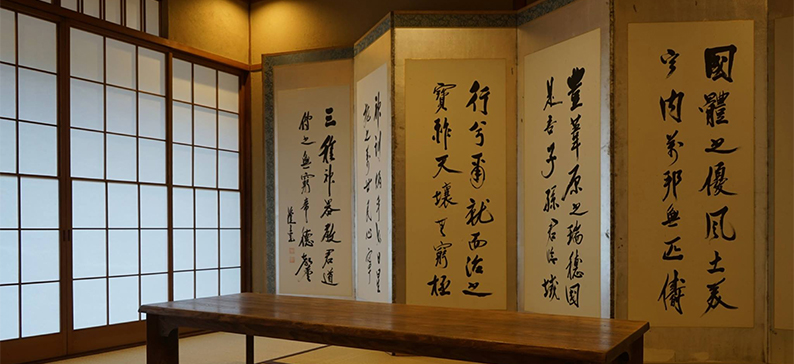 Out back, "Oku Zaimoku-cho Machiya" looks out onto the flowing Kamo River. When I open the sliding glass doors and step out onto the terrace, the wind ruffles my hair. I can just imagine the early morning sunlight, reflected from the river, bouncing off the pine ceiling panels and transforming the space.
Iori was founded in 2013 by three non-locals. Their love for the Imperial City grew through repeat visits, but they were frustrated by a lack of accommodation that suited their needs. By day, they indulged in all that Kyoto had to offer, visiting temples and whiling away the hours with apprentice geishas. But they would have to go back to a hotel or ryokan (Japanese-style inn) at a prescribed hour. They found that luxury hotels, despite the impeccable service they offer, were diluting the Kyoto atmosphere they loved. Ryokans obliged them to eat in, preventing them from going to their favorite restaurants. Their desire to soak themselves "from head to toe" in the Kyoto experience inspired them to convert machiya into accommodations, enabling visitors to enabling visitors to live like a local.
But when they approached owners to renovate and rent out their machiya, they were met with resistance: "Who in their right mind would want to stay in an 80 year-old townhouse?" But the Iori founders persisted. They managed convince a handful of owners, and their concept started to catch on. And today, there are several other companies that rent out machiya to visitors.
The townhouses are renovated into comfortable units that suit the modern lifestyle. But not everything has been replaced. The founders emphasize the importance of keeping as much of the original interior as possible. This ensures that guests can get a feel for staying in a traditional home, and the owners can keep the memories associated with their properties.
I spend the night at "Sanbo Nishino-Toincho Machiya," where I have a two-storey house all to myself. This is no ordinary hotel room. I can't believe how much space I have to run around in! Peeking into the bathroom, I can smell the wooden tub made of Japanese Cypress. There's a large window facing the inner garden. Once my body is warm enough, I'll open the window and enjoy a semi-open-air bath. The alcove and toilet are plain but decorated with elegant flower arrangements. These subtle touches embody the Japanese aesthetic of making the ordinary beautiful.
The family that built this house worked in embroidery and needlework. The current owner's grandfather was a traditional Japanese painter who welcomed many visitors. Among them was Ryunosuke Akutagawa, one of Japan's literary giants. There's a rocking chair in the living room upstairs, and I revel in the idea of Akutagawa sitting in this very spot. As I sit here gently rocking, I can imagine the jovial hobnobbing that likely took place between these walls.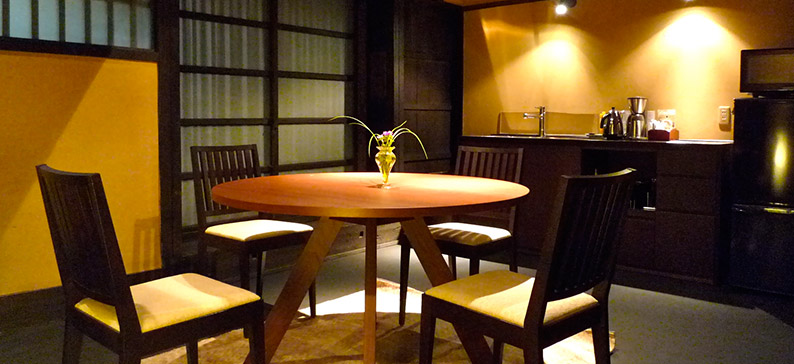 The other machiya in the Iori family feature original items like this rocking chair. What a great way to inspire guests to picture the way things were back then.
I help myself to some tea, and stretch out on the sofa with a book. When I look up from it, the atmosphere in the room feels different from before. The light spills in from the window, creating shadows on the walls and ceiling. The expression of the room changes from one moment to the next. Time trickles by as I gaze at the old wooden posts and beams. They give me a strong sense of this structure's history. The soft light at dusk is a perfect match for this beautiful building that has stood the test of time.
Many guests who stay for three or four nights sometimes spend an entire day without stepping outside. After just one night here, I can understand why. I want to experience this space in the early morning, at twilight, at night… I could stay here all day!
Meals are not served at Iori, but guests can have breakfast and dinner delivered. Before my stay, I didn't think I'd want to order in. But now I know the enjoyment of eating in this space. The kitchenette is equipped with dishes, cutlery and glasses so it truly feels like home.
It's not easy leaving "Sanbo Nishino-Toincho Machiya," but I'm greeted by the familiar cityscape. Somehow, the things seem more intimate than before. I feel like this house was the key to my own secret Kyoto. I'll definitely be back to stay at this machiya, which is physically close, but a world apart.
by Haruka Muta, translated by Maho Harada
April 30, 2016
Iori Machiya Stay information
| | |
| --- | --- |
| Number of rooms | 11 |
| Internet | wifi available |
| Credit card | ok |
| Check in/out | in 4:00pm - 6:00pm out 11:00am |
| Language | English available |
| Price range | |
Additional Information about Iori Machiya Stay
Norestaurant in the hotel
Recommended restaurants
Tenyu (Tempura) - 299 Shimo Hakusan-cho, Nakagyo-ku, Kyoto-shi - TEL: 075-212-7778
Tominokoji Yamagishi (Traditional Japanese) - 560 Tomino-koji, Rokakusa-garu, Honeyano-cho, Nakagyo-ku, Kyoto-shi - TEL: 075-708-7865
Miyazawa (Traditional Japanese) - 553-1 Yaoya-cho, Nakagyo-ku, Kyoto-shi - TEL: 075-213-1326
Soujiki Nakahigashi (Traditional Japanese) - 32-3 Jodo-dera, Ishibachi-cho, Sakyo-ku, Kyoto-shi - TEL: 075-752-3500
Miyoshi (Japanese beef) - 570-15 Gionmachi Minamigawa Higashiyama-ku, Kyoto-shi - TEL: 075-561-2508
Junidanya (Sukiyaki) - 570-128 Gion-machi, Minami-gawa, Higashiyama-ku, Kyoto-shi - TEL: 075-561-0213
Mizai (Traditional Japanese) - 613 Maruyama-cho, Yasakatorii-mae, Higashi-iru, Higashiyama-ku, Kyoto-shi - TEL: 075-551-3310
Sayura (Wine bar) - 570-120 Gion-machi, Minami-gawa, Higashiyama-ku, Kyoto-shi - TEL: 075-551-1599

Related topics